Growing Old Together: You and Your Home
08.22.2017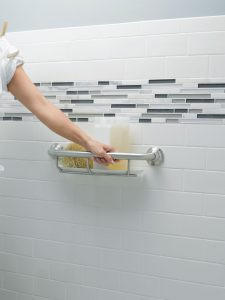 When remodeling or building a home, it's important to plan ahead, especially if you plan to age in place. Aging in place simply means planning to stay in your home as you get older.
Fortunately, there are many universal features and design choices that create a functional home for the future without sacrificing style. Here are a some features to consider.
Zero-Step Entry
A zero-step entry is necessary for wheelchair and walker access. A well lit, zero-step entry is not only functional as you age, but it's also great for any phase of life.
Other helpful features can include keyless entry, a shelf to put down groceries, a covered porch, and lever door handles (instead of knobs).
Wide Doorways, Hallways, and Passages
Not everyone will require a wheelchair or walker, but in the event you do, ample clearance is essential. The ideal doorway is 36 inches. According to the the Americans with Disabilities Act guidelines, U-shaped kitchens require at least 60 inches between opposing cabinets, walls or appliances, and galley kitchens require at least 40 inches of clearance.
Kitchen Amenities
Although it may seem insignificant, wide cabinet and drawer pulls will be easier to grab than knobs as you age. Drawers and pullout shelves make life in the kitchen easier no matter what your age.
Traditional kitchen island seating can be difficult to access as you age, and a fall from counter-height seating is more dangerous. Be sure to incorporate a kitchen island with some table-height seating, or leave plenty of room for a kitchen table.
Accessible Bathroom
Perhaps the most important decision in the bathroom is to skip the tub and opt for a no-threshhold shower with a bench and grab bars instead. A curbless shower makes getting in and out easier and safer. Make sure your contractor is familiar with the proper slope and waterproofing methods that allow the water to drain properly.
If you cringe at the thought of grab bars cramping your style, don't. Grab bars have come a long way and no longer scream functionality. The style may be important to you if you want to incorporate grab bars but aren't at the stage where you necessarily need them. Most importantly, you'll want to make sure there is proper plywood blocking in the wall before installing them.
Of course, growing older is not something we like to think about, but it's better to incorporate these features sooner rather than tearing out and remodeling later. If you want to make sure you and your home are prepared to grow old together, contact us today.