Move Over Granite: 4 Alternatives to Consider
05.19.2017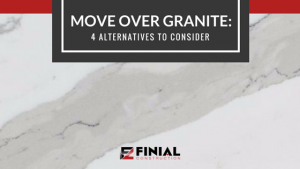 Keep reading to find out which material is number one.
If you're part of the movement that is trending away from granite, here are 6 alternatives you may want to consider.
Marble
Since white and gray continue to dominate the color selections, it is no secret why marble is a popular choice. With its many varieties of white with gray veining, it is absolutely gorgeous. Darker color variations are also available.
However, it's softer and more porous than granite, which makes it very high maintenance. It has the potential to stain and etch easily. If marble is one of your must-haves, just take care of it and be consistent with cleaning spills.
Quartz
The National Kitchen+Bath Association reported that quartz is the most popular kitchen countertop material, as it continues to trend upward.
If you like a minimal style, quartz may be the best option for you. It comes in solid black and solid white without the veining that's found in granite and marble.
Quartz is an engineered stone, which can be more expensive but also very durable. It's actually made of small biz of quartz, mixed with a binder, and molded into the shape of a countertop.
Stainless Steel
There's a reason why stainless steel is frequently used in restaurant kitchens. They are extremely easy to clean and very practical.
They're most popular for creating an industrial or sleek, modern feel. But they can also coincide beautifully in a traditional space when paired with the right design elements.
Granite
Stay with us here. When most people think of granite, they think of speckled patterns in shades of cream, tan, or brown. But, granite is also available in shades of white and gray, and we have seen and installed many slabs that look very similar to marble.
Get the look of marble, and keep the durability of granite. It's the best of both worlds.
Of course, there are many other options. Let us discuss all of your options for your next remodel or your new home. Contact us today.